The Band: More Cowbell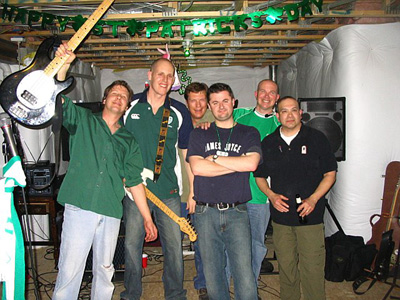 It is with great sadness that I announce that "More Cowbell" officially split up in July of 2007. The band members had become consumed with their fame, fortune, women and fast cars. They simply could not sustain the More Cowbell lifestyle forever. Many former members have moved on to solo careers or other musical endeavors. I am very confident that VH1's "Bands Reunited" will some day be successful at getting More Cowbell back together for one more live show... maybe even at an SBM.

We love you guys and you will be missed!


The Former Members of More Cowbell
Stash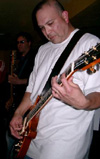 Vital Statistics:
Name: Stash
Given Name: Jim Escalante
Hometown: Chicago, IL
Role: Rhythm and lead guitar
Brands: Gibson and Marshall
Favorite Band: Air Supply
Claim 2 Fame: Jimmy Don't Sing
Previous Band(s): Van Escalante
Favorite Colors: Red, blonde and brunette
X

Vital Statistics:
Name: X
Given Name: Chris Cross
Hometown: Billings, MT
Role: Keys
Favorite Show: MXC
Favorite Groupies: The Cowbelles
Favorite Band: The Sols
Brands: Roland, Yamaha, Fruit of the Loom
Languages: Spanish, French..."Let's rocqout with our cocqout"
Claim 2 Fame: The Rigid Digit
Whiteman's Overbite

Vital Statistics:
Name: Whiteman's Overbite
Given Name: Matt Martin
Hometown: Baku, Azerbaijan
Role: Guitars, spoons, pots, pans
Shoe Size: Fourteen
Brands: Pepsi, Frito-Lay, Nike
Favorite Band: Dashboard Jesus
Claim 2 Fame: Tallest guitarist since Tom Scholz
M-Day

Vital Statistics:
Name: M-Day
Given Name: Mike Day
Hometown: Dillon, MT
Role: Percussion, vocals
Favorite Band: KISS
Previous Band(s): The Tones
Claim 2 Fame: Can't be printed
The Cliff

Vital Statistics:
Name: The Cliff
Given Name: Sean Meagher
Hometown: Long Island, NY
Role: Front Man
Brands: Guiness and Bushmills
Favorite Band: ELO
Claim 2 Fame: Plastic Paddy
Previous Band: Lounge Singer at the Ralston
KGB

Vital Statistics:
Name: KGB
Given Name: Greg Soltys
Hometown: Classified
Role: Bass, vocals
Brands: My Adidas
Favorite Band: Beastie Boys
Claim 2 Fame: Still searching for one
More Cowbell at SBM XIV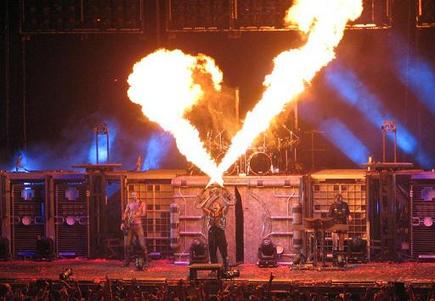 Top